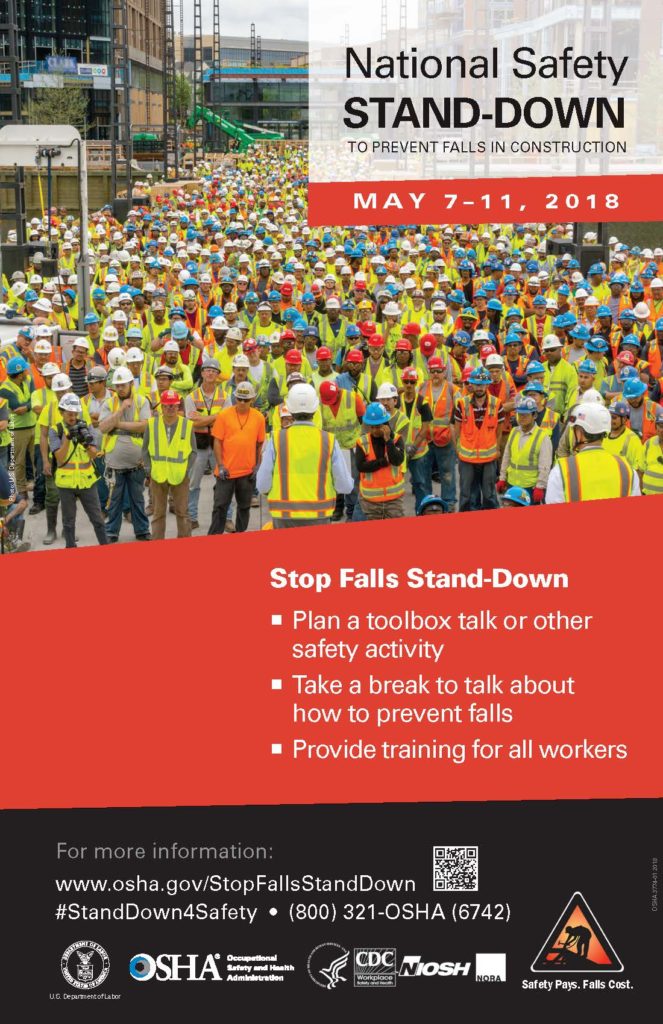 What is a Safety Stand-Down?
A Safety Stand-Down is a voluntary event for employers to talk directly to employees about safety. Any workplace can hold a stand-down by taking a break to focus on "Fall Hazards" and reinforcing the importance of "Fall Prevention". Employers of companies not exposed to fall hazards can also use this opportunity to have a conversation with employees about the other job hazards they face, protective methods, and the company's safety policies and goals. It can also be an opportunity for employees to talk to management about fall and other job hazards they see.
For more about the Safety Stand Down and how you can participate, visit: https://www.osha.gov/StopFallsStandDown/
How Alta Access Participates
Alta Access Partner Kelly Streeter, P.E is on the Board of Directors of the Sealant, Waterproofing & Restoration Institute (SWRI).  SWRI and the Occupational Safety and Health Administration (OSHA) formed an alliance in 2003 to promote safe and healthful working conditions for workers who apply and work with sealant, waterproofing and restoration products.  SWRI is committed to promoting safe practices in the workplace and on the jobsite. In addition, SWRI is working with OSHA to educate members by providing timely information about how to protect employees.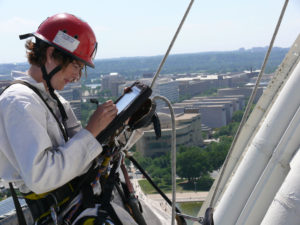 In preparation for Safety Stand-Down week May 7-11, 2018, Alta Access Partner Kelly Streeter, P.E., presented a webinar to the Sealant, Waterproofing, and Restoration Institute for SWRI for its members to use as a resource during Stand-Down week, now in progress. Her webinar summarizes  OSHA's Walking-Working Surfaces with the emphasis on anchors, ladders, training, and documentation.
More about Kelly Streeter
Kelly is a licensed structural engineer and partner-in-charge of nondestructive evaluation and access consulting projects on buildings, bridges and dams. She is also a partner of Vertical Access and leads the development of TPAS® documentation services. Kelly is also chairperson for the American National Standards Institute (ANSI) Z359.9 subcommittee on Personal Equipment for Protection Against Falls – Descent Controllers.
Kelly is a frequent presenter at industry associations, a lecturer at graduate and undergraduate level historic preservation university programs and a SPRAT certified Level III rope access supervisor.  To speak to Kelly about fall protection, access consulting, and walking working surface safety, contact her at kelly@alta-access.com.